March 21, 2023. The U.S. Dept. of Education has released new data on students with disabilities (eligible under the Individuals with Disabilities Education Act or IDEA). Section 618 of the Individuals with Disabilities Education Act (IDEA) requires that each state annually submit data about the infants and toddlers, birth through age 2, who receive early intervention services under Part C of IDEA, and children with disabilities, ages 3 through 21, who receive special education and related services under Part B of IDEA.
The new data shows the number of IDEA-eligible children in 2021 increased significantly from 2020. Students ages 3-21 increased by 1.9%; school age students (ages 5-21) increased by 2.5% following a slight decline in 2020.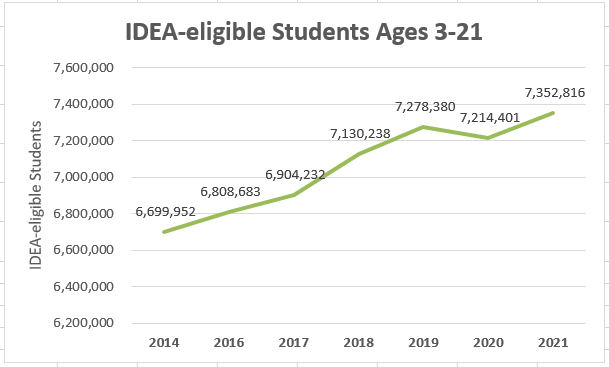 The percent of the population served under IDEA continues to vary significantly across states, ranging from a high of 12.95% in Maine to a low of 6.22% in Hawaii with a nationwide rate of 9.48%.
CHANGES IN DISABILITY CATEGORIES

The distribution across disability categories of School Age Students (ages 5-21) with Disabilities in 2021 showed an increase in the Autism category while other categories such as Specific learning disabilities and Emotional disturbance continue to decline. Autism now accounts for a full 12% of school age students with disabilities, up from 10% just 5 years ago.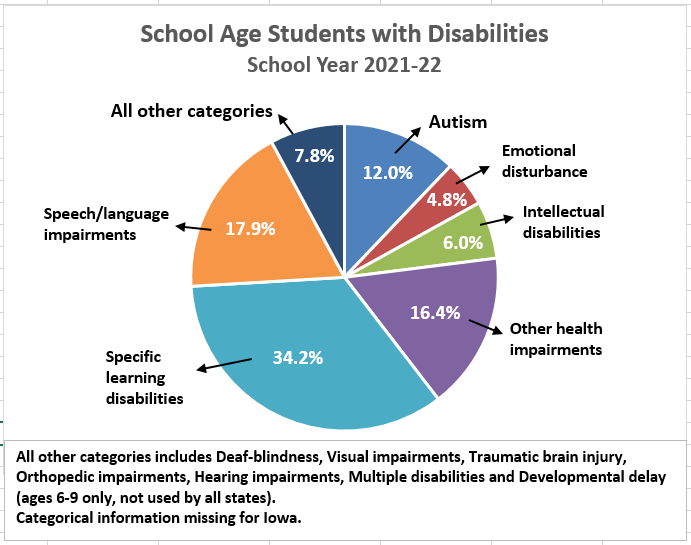 NUMBER OF YOUNG CHILDREN RETURNS TO 2019 LEVEL
The number of children served under IDEA Part C also increased in 2021, after a significant decline in 2020. Part C served 407,807 children in 2021 compared to 363,387 in 2020. Equally important, the percent of the population served grew from 3.2% to 3.7%, returning to 2019 level.

The percent of population served under Part C varies by state ranging from 9.95% in Massachusetts to 1.14% in Arkansas.

The section 618 data collection provides data on the following
· School Year 2020-21 Part B Assessment
· School Year 2021-22 Part B Child Count and Educational Environments
· School Year 2020-21 Part B Discipline
· School Year 2020-21 Part B Dispute Resolution
· School Year 2020-21 Part B Exiting
– School Year 2020-21 Maintenance of Effort Reduction and Coordinated Early Intervening Services
· School Year 2020-21 Part B Personnel
· School Year 2021-22 Part C Child Count and Settings
· School Year 2020-21 Part C Dispute Resolution
· School Year 2020-21 Part C Exiting