Thursday, April 12th, 2018
Results of the 2017 National Assessment of Educational Progress (NAEP) in mathematics and reading were released April 10, 2018. Details are available here.
NAEP mathematics and reading assessments are given every two years to a nationally representative sample of students in fourth and eighth grades. NAEP provides an important comparison across states and between student groups (e.g., female students, Hispanic students, students with disabilities).
The 2017 achievement of students with disabilities showed virtually no improvement over 2015 (except 8th grade reading showed a slight improvement). In fact, the majority of students with disabilities performed in the "below basic" achievement level in all 4 areas (reading and math, 4th and 8th grade). The gaps between students with disabilities and those without disabilities continue to be substantial.
Importantly, NAEP includes students with 504 Plans in the overall results for students with disabilities. However, results can be filtered only for students with IEPs. We use results only for students with IEPs since these data are more useful in comparing student performance on state assessments and graduation rates – neither of which include students with 504 Plans.
In the coming weeks we will release state-by-state analyses of the achievement of students with disabilities compared to those without disabilities. Learn more about the NAEP and students with disabilities.
Below are the national results for students with IEPs compared to students without disabilities (public schools) for the most recent 3 NAEP administrations. (We also have national results for students with disabilities by race/ethnicity.)
MATH GRADE 4   (Click here for state-by-state below basic achievement and state-by-state basic and above achievement and the achievement of students with disabilities by race)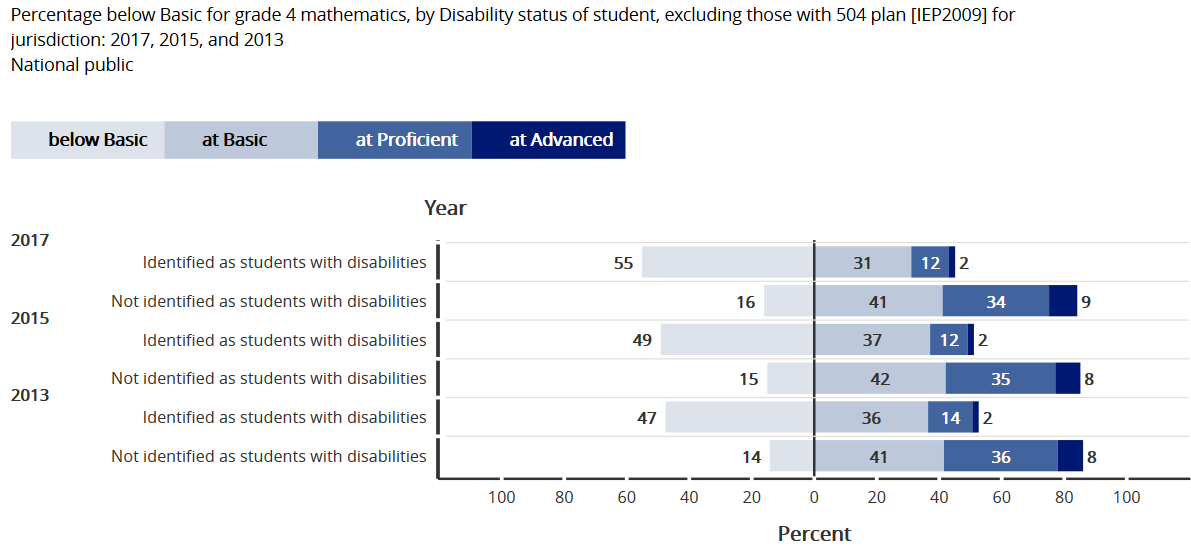 MATH GRADE 8  (Click here for state-by-state below basic achievement and state-by-state basic and above achievement and the achievement of students with disabilities by race)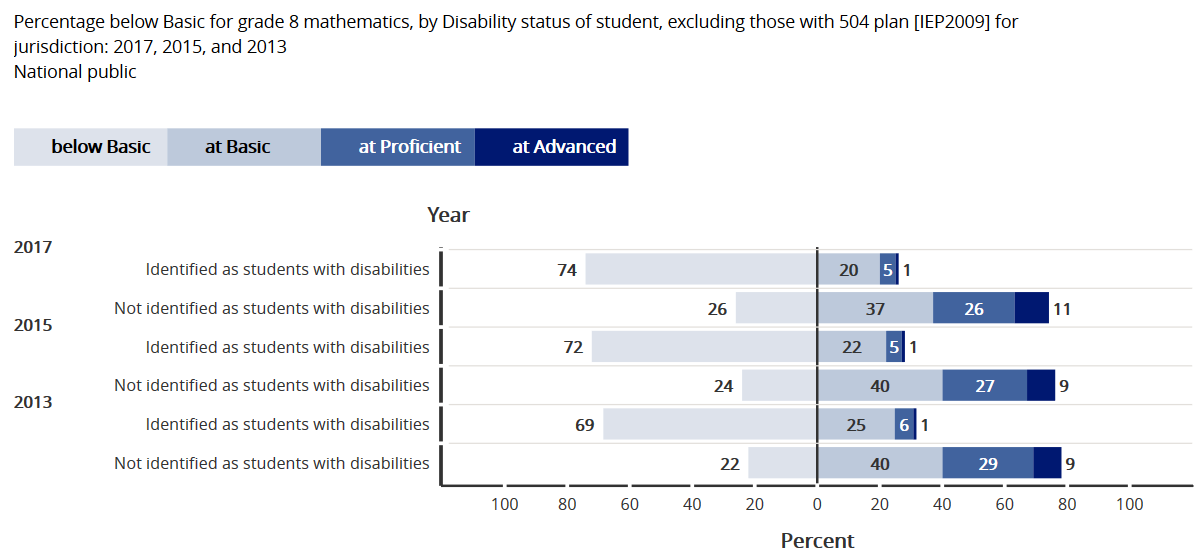 READING GRADE 4  (Click here for state-by-state below basic achievement and state-by-state basic and above achievement and the achievement of students with disabilities by race)
READING GRADE 8  (Click here for state-by-state below basic achievement and state-by-state basic and above achievement and the achievement of students with disabilities by race)
Source: https://www.nationsreportcard.gov/