Monday, December 23rd, 2013
December saw the release of the results of the 2013 TUDA – the Trial Urban District Assessment – part of the National Assessment of Educational Progress (NAEP) conducted by the U.S. Dept. of Education. (We blogged about the release of the NAEP at the state and national levels earlier.)
The TUDA reports the achievement of public school students in 21 urban districts in reading and math at grades 4 and 8. Results are broken down by racial/ethnic groups as well as special populations, such as students with disabilities and students eligible for free/reduced-price lunch meals. More info on TUDA is available here.
The achievement of students with disabilities (including both IDEA and 504 eligible students) varied substantially across the TUDAs. However, few districts achieved at a level equal to or better than the nationwide level for students with disabilities.
While most participating districts performed below the nationwide rate on all measures, some districts stand out as exceedingly poor performers. Only one district achieved exceptionally good performance when compared to the nation as a whole. These are:
EXCEEDINGLY POOR (in alphabetical order): Cleveland, Detroit, Fresno, Los Angeles, Milwaukee

EXCEPTIONALLY GOOD: Hillsborough County (FL)
Hillsborough County in Florida was the only district participating in TUDA that outperformed the nation on all four measures (4th/8th Reading and Math). Hillsborough's TUDA results were reported in the Tampa Bay Newswire.
The performance of students with disabilities compared to those without disabilities is shown below.
MATH – Grade 4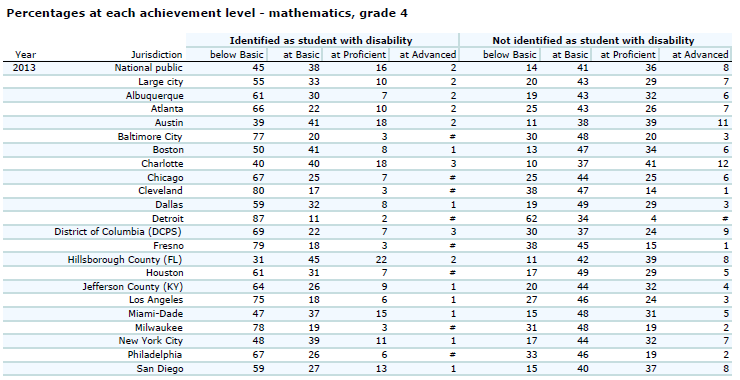 MATH – Grade 8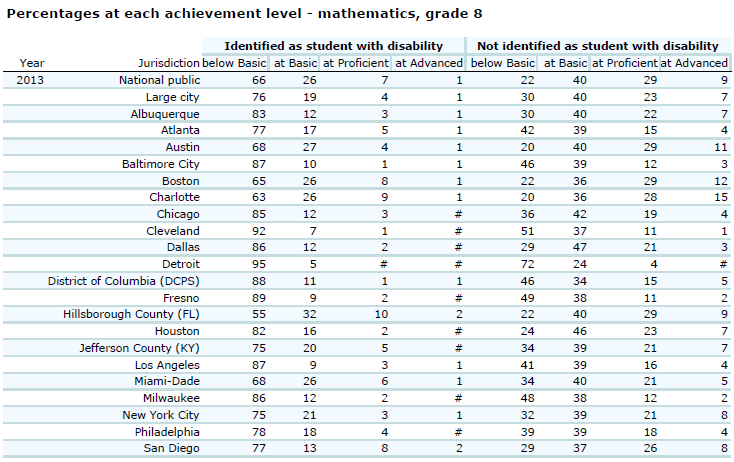 READING – Grade 4
READING – Grade 8