Resources :: Preparing for Special Education Mediation and Resolution Sessions: A Guide for Families and Advocates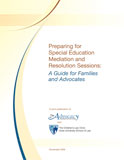 The Advocacy Institute and the Children's Law Clinic at Duke Law School have combined their talents to create this
publication to help families and advocates make the most of the expanded dispute resolution options available in the latest version of the Individuals with Disabilities Education Act (IDEA 2004).
The guide offers:
a comprehensive article on mediation and resolution sessions, including tips on preparing for either mediation or a resolution session in order to get the best results;

important terms to know;

mediation and resolution session flowchart

a comparison of mediation and the due process hearing;

findings of a study to identify the factors contributing to parent-school conflict in special education;

interview with an experienced mediator;

communication tips for building strong partnerships;

additional resources.
Click here to download the guide (PDF, 28 pages).