Tuesday, January 14th, 2014
The New York State Education Department (NYSED) is proposing a significant change to the manner in which its students with disabilities (almost 400,000 students) are tested for purposes of school/district/state accountability. The proposal is contained in NYSED's  application for an extension of its current ESEA Flexibility.
This proposal violates the rights of students with disabilities, conflicts with the principles established by the U.S. Dept. of Education (USED) regarding waiving some provisions of the Elementary and Secondary Education Act (ESEA) due to the inaction of Congress to update the law, and could create an incentive to inappropriately put students into special education.
JANUARY 29, 2014 UPDATE: Thanks to everyone who submitted comments in opposition to this proposal during the public comment period (Jan. 16-28, 2014). The proposal comes before the New York Board of Regents for a vote at its meeting on Feb. 10-11, 2014. 
FEBRUARY 1, 2014 UPDATE: U.S. Education Ass't Secretary reaffirms commitment to maintain requirement that students with disabilities be tested at their enrolled grade level for purposes of ESEA accountability. Read her statement here.
FEBRUARY 8, 2014 UPDATE: NYSED releases revised proposal to test some students with disabilities below grade level. Despite hundreds of comments in opposition to this proposal, NYSED will ask the NY Board of Regents for approval to move it forward to the U.S. Dept. of Education as part of its application for an extension of its ESEA Flexibility. The Board of Regents meets February 10-11, 2014.Info available here.

FEBRUARY 10, 2014 UPDATE: New York Board of Regents approves NYSED ESEA Flexibility Extension request including proposal for out-of-level testing for some students with disabilities. The proposal will now move forward to the U.S. Dept. of Education for consideration.
Proposed revisions to the initial proposal are stated as:
"The Department has refined its proposal to more clearly identify eligibility criteria for the subgroup of students for which this waiver can apply; limited how the scores of students on instructional level assessments can be used for accountability purposes; and has committed to public reporting of both State and district disaggregated data on the use of this assessment for students with disabilities. Additional guidance and professional development for districts, Committees on Special Education and parents will be provided upon approval of the waiver. In particular, the Department has specified five criteria that students must meet in order to be eligible for participation in instructional level testing as well as identified factors such as a student's disability category that may not be used as a basis for determining a student's eligibility; reduced from .93 to .7 percent in English language arts and from 2.34 to 1.5 percent in mathematics the percentage of students whose instructional level scores may be used for accountability purposes; and limited to "partial credit" the adjustment to the Performance Index that would result from a student scoring at or above Level 2 on an instructional level assessment."
The revised amendment appears on pages 11-15 and analysis of comments appears on pags 32-40 of the full document here.
"""""""""""""""""""""""
View comments submitted by leading civil rights and disability rights advocacy organizations:
BACKGROUND
New York received approval of its initial application for  (ESEA) Flexibility on May 12, 2012. New York's approved request is available here.
New York's ESEA Flexibility did not give them permission to assess students with disabilities in ways other than those already authorized under current ESEA Federal regulations. These options are:
General assessment without accommodations;
General assessment with accommodations;
Alternate Assessment on Alternate Academic Achievement Standards (AA-AAS), known in NY as the NYSAA.
Under the requirements of ESEA, all students must be administered the assessment for the grade level in which they are enrolled.
New York is currently part of assessment consortia that are developing new assessments aligned with the Common Core State Standards. These are PARCC for the general assessment and the National Center and State Collaborative for the AA-AAS.
NEW YORK's NEW OUT-OF-LEVEL TESTING PROPOSAL
New York's current ESEA Flexibility expires at the end of the current school year (2013-2014). The state must now apply for a one-year ESEA Flexibility extension. Conditions for applying for an extension were laid out in a letter to Chief State School Officers from US Education Ass't Secretary Deb Delisle back in November 2013.
As part of its ESEA Flexibility extension application, New York is proposing to create an additional way to assess some of its students with disabilities. This approach – known as "out-of-level" or "off-grade-level" testing is not allowed under current ESEA regulations. The practice was in wide-spread use before the enactment of the latest version of the ESEA – known as No Child Left Behind – not just for students with disabilities but for many students who weren't expected to perform at grade level, as recalled by civil rights advocate Dianne Piche in this Huffington Post article.
The specifics of New York's proposal appear below. Complete information on the proposed amendments to New York's ESEA Flexibility extension application are at http://www.p12.nysed.gov/accountability/documents/ESEAFlexibilityRenewalforPublicComment011614_1.pdf.
Amendment Regarding Testing Requirements for Students with Disabilities
(excerpted from the full proposal available here.)
There is a group of students with significant cognitive disabilities who cannot demonstrate what they know and can do on the general grade level assessments, even with accommodations. These are students who are not eligible for the State's alternate assessment based on alternate academic achievement standards. This subgroup of students can make significant progress, but are not likely to reach grade-level achievement in the time frame covered by their individualized education programs (IEP).
NYSED is applying for a waiver to allow school districts to administer the general State assessments to these students with disabilities, but at their appropriate instructional grade levels, provided that
(1) the State assessment administered to the student is not more than two grade levels below the student's chronological grade level; and (2) the student is assessed at a higher grade level for each subsequent year. The student's instructional grade level would be calculated annually and separately for English Language Arts (ELA) and math.
Allow the proficient and advanced scores of those students assessed in accordance with their instructional grade levels be used for accountability purposes, provided that the number of those scores at the LEA and at the State levels, separately, does not exceed the .93 percent of all students in the grades assessed in ELA and 2.37 percent of all students in grades 3-8 assessed in Math.
To ensure appropriate time for dissemination of guidance to Committees on Special Education who would make IEP recommendations for student participation in the instructional level State assessment, this waiver would go into effect during the 2014-15 school year.
Rationale
Until the State can develop and implement adaptive assessments, NYSED requests to more appropriately assess, for instructional and State accountability purposes, the performance of students with significant cognitive disabilities who cannot, because of the severity of their disabilities, participate in chronological grade level instruction.
These students, while they do not meet the State's definition of a student with a significant cognitive disability appropriate for the State's alternate assessment, may be able to meet the State's learning standards over time. However, these students need to be provided with instruction with special education supports and services at a pace and level commensurate with their needs and abilities and their individual rates of learning.
When students with disabilities are required to participate in an assessment at their chronological age significantly misaligned with content learned at their instructional level, the assessment may not provide as much instructionally actionable information on student performance or foster the most prudent instructional decisions. For these students, State assessments do not provide meaningful measures of growth for purposes of teacher and leader evaluations.
NYSED holds all schools and students to high expectations and believes this waiver will lead to more appropriate instruction and assessment of students, while ensuring that students with disabilities participate in the general curriculum and the same State assessments, but closer to their instructional levels in order to obtain instructionally relevant information from the assessments.
The State has calculated the percentage of students who have participated in the chronological age assessments and found that in school year 2012-13, .93 percent perform at chance level on the ELA exams and approximately 2.37 percent of students score at chance on the Math exams.
The State would establish criteria, based on objective and valid data, for demonstrating that the student's current level of performance is two or more years below his/her chronological grade level and demonstrating the student's progress (or lack of progress) over a sufficient period of time. The state would also create a profile of a student who, based on individual evaluation information identifies the student as having intellectual or cognitive deficits, such as autism, intellectual disability, traumatic brain injuries, neurodegenerative diseases or severe learning disabilities.
To provide further safeguards, the State would require:
• A determination by CSE that the student does not meet the State's definition of a student with disabilities who is eligible for the State's Alternate Assessment; and
• Documentation that shows that the student would need extensive modifications and accommodations to curriculum, instruction and assignments to access the curriculum and that even with such services, the CSE is reasonably certain that the student would fail to achieve chronological age-level proficiency; and
• Documentation of notices to the student's parent of the recommendation and the reasons for the recommendation; and
• Assurances that the student will not be removed from education in age appropriate regular classrooms solely because of needed modifications in the general education curriculum and that the student will be provided instruction in in the general curriculum with his/her chronological age peers by a highly qualified teacher.
The waiver will support continued focus on ensuring students with disabilities graduate college- and career-ready by ensuring more meaningful State assessment results; support efforts to improve all schools in the State; and support closing of achievement gaps between student subgroups by better identifying the subgroups of students with disabilities and their performance levels.
Process for Consulting with Stakeholders and Summary of Comments on the Students with Disabilities Assessment Waiver Request
Stakeholders from across the State, representing teachers, administrators, parents, and community based organizations have assisted the Department in responding to the requirements of the Renewal application. During the first week of November, an external "Think Tank" was convened, and members were asked to be thought partners with the Department as it drafted its response to the renewal requirements. A large portion of the members of the ESEA Renewal Think Tank also participated in the original ESEA Waiver Think Tank that guided the creation of New York State's approved ESEA Waiver application. To date, The ESEA Waiver Renewal Think Tank has met five times since convening in November, with various related work groups meeting at least twice additionally during that time period.
In addition to the Think Tank, the Commissioner, Deputy Commissioner and Department staff have solicited feedback on the waiver through meetings with a wide variety of organizations, including the Commissioner's Advisory Panel for Special Education (of which the majority of members are parents of students with disabilities), representatives of each of the State's 13 Special Education Parent Centers and federal Parent and Training Information Centers (PTIs), Title I Committee of Practitioners, the English Language Learners Leadership Group, the DTSDE Training Group, and the District Superintendents.
Throughout this process, Department staff evolved the proposed waiver to address stakeholder concerns and recommendations, which were primarily to develop objective criteria to identify the subgroup of students with disabilities who would be eligible for this waiver and to ensure that students with disabilities would continue to have access to the general curriculum in the least restrictive environment. This waiver request has been strongly supported by both parent and advocacy organizations and school personnel throughout the State.
WHY THIS IS A BAD PROPOSAL
In its ESEA Flexibility Implementation letter from the US Dept. of Ed (USED), New York was reminded that "New York and its local educational agencies (LEAs) remain obligated to comply with all other requirements of the ESEA, including, for example, the fiscal requirements in ESEA section 1120A, the report card requirements, the regulatory requirements for calculating graduation rates, the caps on the number of proficient and advanced scores of students with disabilities who take an alternate assessment based on alternate … academic achievement standards that may be included in accountability determinations, and the requirements related to equitable services.
ASSESSMENTS ALLOWED UNDER ESEA: USED's ESEA Flexibility does not provide for the use of any other assessments nor the use of "out of level" testing. Thus, the proposal developed by NYSED to "allow districts to administer the State assessments at the students' instructional grade levels as opposed to their chronological grade levels" does not comply with ESEA Flexibility. Furthermore, the scope of USED's authority to grant flexibility under No Child Left Behind does not allow it to entertain such a proposal.
The U.S. Dept. of Education addressed the use of out-of-level testing when it issued final regulations to NCLB on July 5, 2002. In its analysis of comments to the proposed regulations, USED stated that:
"One of the bedrock principles of the NCLB Act is that all students can learn to high standards. As a result, section 1111(b)(1) requires challenging academic content and student achievement standards that a State applies to all schools and students in the State. Similarly, section 1111(b)(3) requires a State to develop aligned assessments that the State uses to measure the achievement of all students. These requirements are accurately implemented in Secs. 200.2(b)(1) and 200.6(a) of the final regulations. Specifically, as Sec. 200.6(a)(1) indicates, a State's assessment system must provide accommodations so that a student with disabilities or a student covered under Section 504 of the Rehabilitation Act of 1973 can be held to the content and achievement standards for the grade in which the student is enrolled. Although "out-of-level" tests, for example, may provide instructional information about a student's progress, they are not an acceptable means to meet the State's assessment requirements under Secs. 200.2 and 200.6 or the accountability requirements of the NCLB Act." (34 CFR Part 200, Final Regulations for Standards and Assessments, issued July 2002)
VIOLATION OF IDEA: The IDEA expressly states that one purpose of "specially designed instruction" is to "ensure access of the child to the general education curriculum, so that the child can meet the educational standards within the jurisdiction of the public agency that apply to all children." This purpose is not qualified with any language allowing the lowering of the educational standards students with disabilities are expected to meet based on their "instructional level."
VIOLATION OF SECTION 504: Section 504 of the Rehabilitation Act of 1973 and its long-standing regulations also require that students with disabilities not be discriminated against or denied comparable aids, benefits or services. 34 C.F.R.§104.4(b). The setting of lower standards for certain students with disabilities will inevitably mean that most of those students will not be taught those skills and bodies of knowledge expected for all students, at the levels expected for all students. To the extent that New York's students with disabilities are failing to perform at a proficient level on the state assessments in Reading and Mathematics, the response to that failure should be changes to students' instructional programs and the level of intensity of their specially designed instruction.
New York bases its proposal on the percentage of students with disabilities who scored at the "chance" level on its state assessments in 2012-13 and then presumes that performance to be equal to performance two grades levels below the student's chronological age. Yet New York fails to reveal how many students in other groups – such as Black, Hispanic, low-income students scored at the same level. To use this approach as a rationale to use below-level testing for students with disabilities but not other students performing equally poorly is discriminatory.
PARENTAL INVOLVEMENT: New York's proposal fails to provide adequate parental involvement and does not recognize parents as equal members of a student's IEP team. The IEP team decides how a student will participate in the state assessment system, as required by IDEA.
LOWER PERFORMANCE TARGETS: ESEA Flexibility allowed NY to establish new "annual measurable objectives" or "AMOs" – the percentage of students who must score at proficient or above in order for a school or district to make "Adequate Yearly Progress" or AYP.
Using this flexibility New York created a "Performance Index" to replace the AMOs required in ESEA. New York's Performance Index is a value from 0 to 200 that is assigned to an accountability group, indicating how that group performed on a required State test (or approved alternative) in English language arts, mathematics, or science. Student scores on the tests are converted to four performance levels, from Level 1 to Level 4. Each student scoring at level 1 is credited with 0 points, each student scoring at Level 2 with 100 points, and each student scoring at level 3 or 4 with 200 points. The Performance Index16 for each accountability group is calculated by summing the points and diving by the number of students in the group.
This "differentiated" approach allowed the Performance Index for students with disabilities to be set much lower than other groups of students. Allowing these lower expectations was intended to provide schools and districts more attainable performance goals for students with disabilities over the course of six years. (See tables below.) The Performance Index targets were set against a baseline year in which students with disabilities were assessed via the two available options: the general assessment with or without accommodations and the alternate assessment on alternate achievement standards. 
Now, as part of its ESEA Flexibility extension request, NYSED  proposes to further adjust the Performance Index, using the 2012-2013 assessment results for each student subgroup (Amendment 4). This additional target reset will result in much lower expectations for students with disabilities since this group performed significantly lower in 2012-2013 than in previous years.
Just 5 percent of students with disabilities in grades 3-8 scored at or above the proficient levels in English/Language Arts and just 7 percent scored at or above the proficient levels in Math in 2012-2013 (Source: A New Baseline: Measuring Student Progress on the Common Core Learning Standards). (See charts below)
Allowing some students with disabilities to be assessed below their enrolled grade level and then measure the school/district/state against these differentiated (lower) targets would result in unreliable and inaccurate information on the performance of students with disabilities.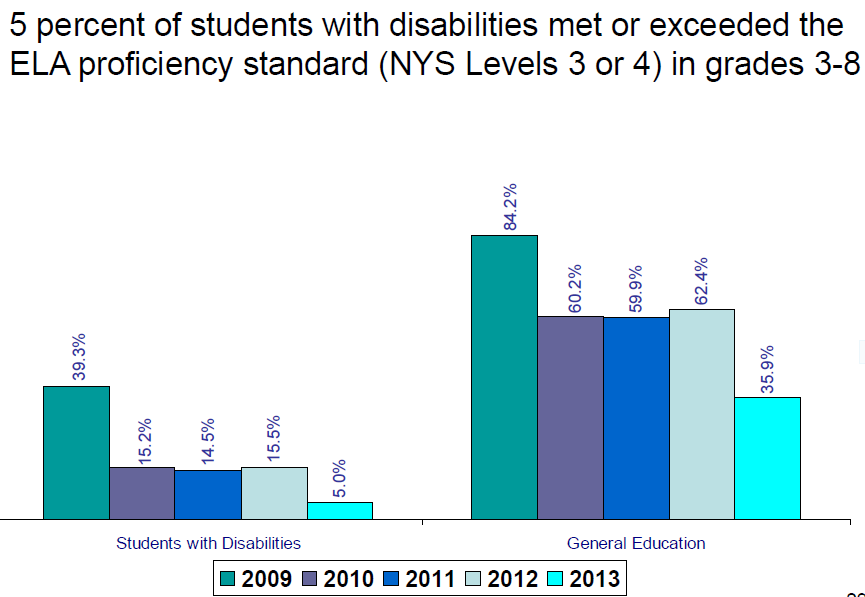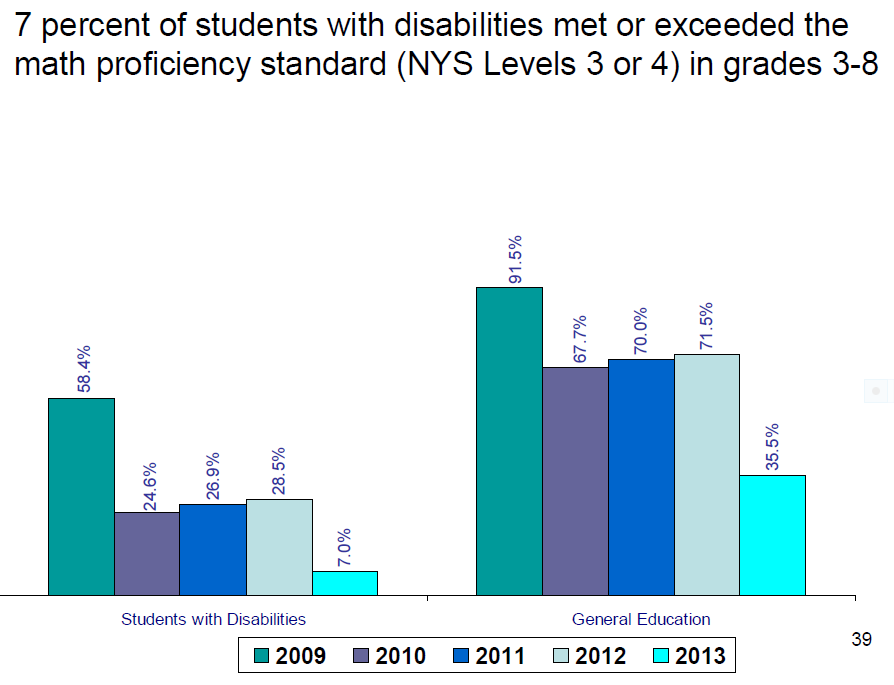 Performance Index targets in current NY ESEA Waiver
Tables below are also available in PDF here.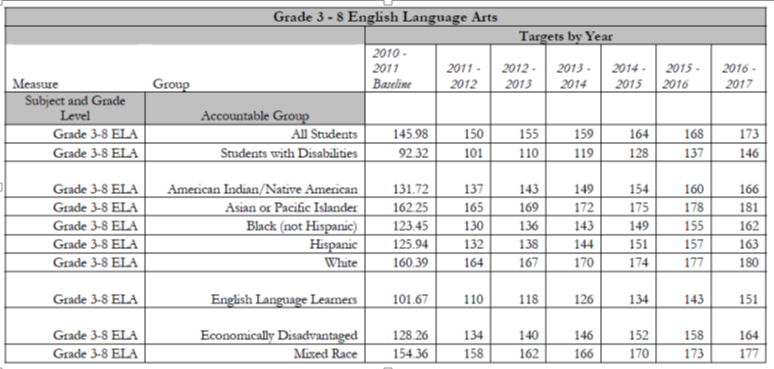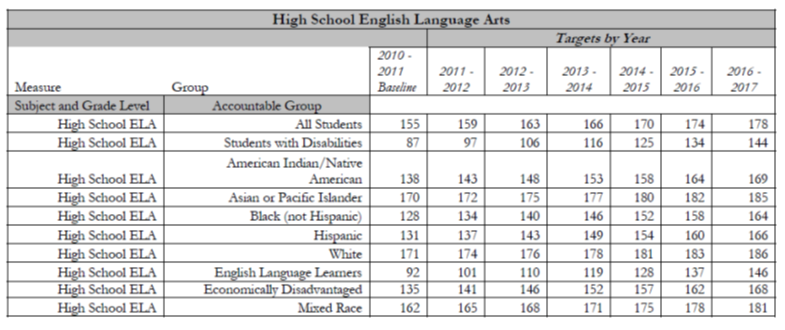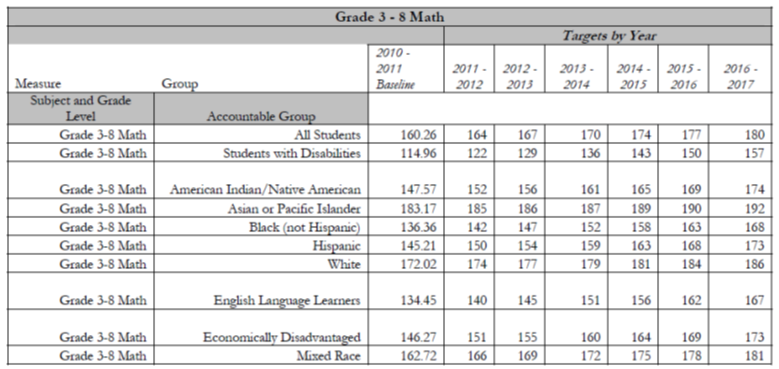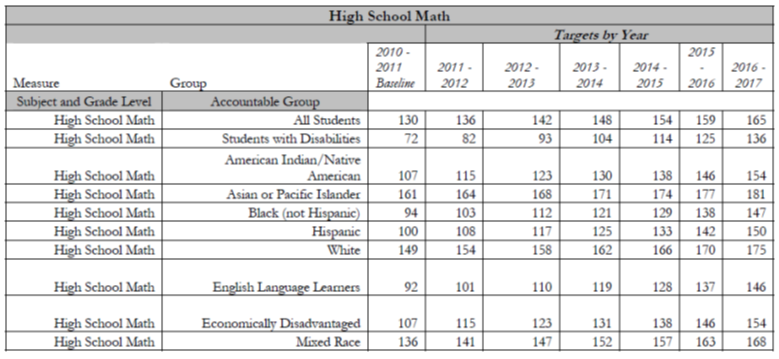 Source: New York State Flexibility Request, May 21, 2012