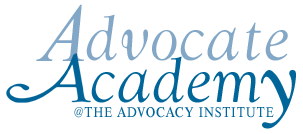 Specific Learning Disabilities (SLD)
Under the Federal Special Education
Regulations to Implement IDEA 2004

Conducted September 28, 2006
Presenter: Scott F. Johnson, Esq.
Webinar Materials and Archive
Webinar Archive: This is the archive of the Webinar conducted September 28, 2006. The archive is 1 hr., 26 minutes in length. You can start, stop, pause, fast forward or rewind the recording using the controls on the ReadyTalk player. Note: Playing the archive requires ADOBE FLASH to be actived.
Regulations and Analysis of Comments: This is the IDEA 2004 federal regulation regarding Evaluation and Eligibility and the Analysis of Comments pertaining to SLD from the U.S. Department of Education. Comments of particular importance are highlighted. (PDF, 46 pgs.)
Strategies for Advocates: This chart offers strategies that advocates might use in discussing the identification and eligibility of students in the SLD category of IDEA 2004. (PDF, 2 pgs).
Resources for Advocates: This is a listing of pertinent resources regarding the SLD regulations, Response-to-Intervention, State Standards and State level advocacy. (PDF, 2 pgs.)
Related webinars: