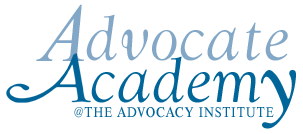 Advocating for Gifted Students with
Learning and Other Disabilities

Conducted November 18, 2009
Presenter
Rich Weinfeld
Director
Weinfeld Education Group, LLC


Rich Weinfeld has long been an advocate for quality educational programs for all students. Now the director of Weinfeld Education Group, LLC, he previously served as Montgomery County, MD's first full time coordinator for students who are simultaneously gifted and learning disabled. His books include Smart Kids with Learning Difficulties: Overcoming Obstacles and Realizing Potential, Helping Boys Succeed in School, School Success for Student's with Asperger's Syndrome, and Special Needs Advocacy Resource Book. Information about his advocacy and training programs, including the upcoming "Diamonds in the Rough" national conference and the Special Needs Advocacy Institute can be found at www.richweinfeld.com.

Webinar Archive and Materials
Webinar Archive*: This is the recording of the live Webinar conducted on November 18, 2009. The recording is 1 hr, 29 minutes in length. You can start, stop, pause, fast forward or rewind the recording using the controls on the ReadyTalk player. (Note: Playing the archive requires FLASH Player to be installed on your computer.)
Webinar PowerPoint Presentation Handout*: This is the Handout for the Webinar presentation on Advocating for Gifted Students with Learning and Other Disabilities. (PDF, 26 pgs.)
RESOURCES:
U.S. Department of Education Office for Civil Rights: Dear Colleague letter dated December 26, 2007 regarding Access by Students with Disabilities to Accelerated Programs. PDF (3 pgs) Web
Parent Advocacy Brief :: Understanding the ADA Amendments Act (ADAAA) and Its Impact on Section 504: This publication by the National Center for Learning Disabilities and co-authored by The Advocacy Institute provides an understanding of the changes brought about by the ADAAA, how they apply to Section 504, and how these changes may impact children with disabilities, including learning disabilities, as well as other conditions such as Attention-Deficit/ Hyperactivity Disorder (AD/HD), Aspergers Syndrome, diabetes, asthma, and life-threatening food allergies. Get it here. (PDF, 11 pgs)
* PLEASE NOTE: These materials are for the exclusive use of purchasers of Advocate Academy Webinar live events and archives. Please do not distribute or provide others with access to these materials. Thank you.