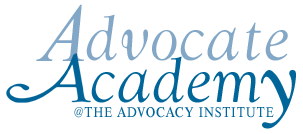 Helping Families Prepare for
Mediation and Resolution Sessions

Conducted on November 19, 2008
Presenter
Jane R. Wettach, Esq.


Jane R. Wettach


Jane R. Wettach is a Clinical Professor of Law at Duke Law School and the Director of the Law School's Children's Law Clinic. The Children's Law Clinic operates as a community law office, staffed by supervised law students, offering free legal services to low-income children and their families in cases involving special education, school discipline, school enrollment, Supplemental Security Income, and other miscellaneous matters.

Prof. Wettach also teaches Education Law. Prior to teaching at Duke Law School, Prof. Wettach was an attorney with Legal Aid of North Carolina. She earned both her law degree and her undergraduate degree at the University of North Carolina in Chapel Hill. She is a frequent speaker on issues involving the educational rights of children, especially children with disabilities.

Webinar Archive and Materials
Webinar Archive*: This is the recording of the live Webinar conducted on November 19, 2008. The recording is 1 hr, 32 minutes in length. You can start, stop, pause, fast forward or rewind the recording using the controls on the ReadyTalk player. (Note: Playing the archive requires FLASH Player to be installed on your computer.)