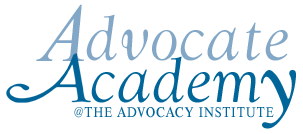 Discipline and Students with Disabilities:
Key Concepts and Strategies for Advocates

Conducted March 19, 2009
Presenter
Catherine A. Holahan, Esq.


Catherine Holahan, Esq.

Catherine A. Holahan, Esq., is an attorney with Connecticut Legal Services, Inc. In this position, she advocates through individual legal representation and systemic advocacy on behalf of low-income families with children with disabilities to gain access to special education and behavioral health services. Her experience includes representing individual clients in state and federal court, expulsion hearings, special education due process hearings, mediations and complaints, and systemic advocacy through legislative advocacy, class litigation, outreach and education. Attorney Holahan developed the CLS Stop the School-to-Prison Pipeline Project in Waterbury which focuses on providing civil legal representation to students with disabilities who are subject to school-based arrests or court referrals and school discipline for disability-related behavior.

Attorney Holahan received a J.D. with honors from the University of Connecticut School of Law in 2001 and an M.S.W. in Policy and Planning from the University of Connecticut School of Social Work in 2000. She earned a B.A. from the University of Vermont in 1994. Attorney Holahan is admitted to the Connecticut State Bar, the Federal District of Connecticut and the Second Circuit Court of Appeals. She is a member of the Connecticut Bar Association Education and Federal Practice Sections. Prior to joining CLS, Attorney Holahan served as a law clerk in the Connecticut Appellate Court to the Honorable Ellen Ash Peters, Chief Justice Retired.
Webinar Archive and Materials
Webinar Archive*: This is the recording of the live Webinar conducted on March 19, 2009. The recording is 1 hr, 29 minutes in length. You can start, stop, pause, fast forward or rewind the recording using the controls on the ReadyTalk player. (Note: Playing the archive requires FLASH Player to be installed on your computer.)