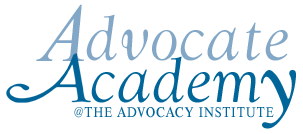 Functional Behavioral Assessments:
Foundation for Effective Interventions
conducted June 7, 2006
Presenter: Carl Liaupsin, Ph.D.
Carl Liaupsin, Ph.D. (more)
Assistant Professor, Director of the Mild to Moderate Disabilities Focus Special Education Program, University of Arizona

Webinar Materials and Archive
Webinar Archive*: This is the archive of the Webinar conducted June 7, 2006. The archive is 1 hr., 28 minutes in length. You can start, stop, pause, fast forward or rewind the recording using the controls on the ReadyTalk player. (Note: Playing the archive requires ABODE FLASH to be activated.)
ADDITIONAL RESOURCES:
Behavior Intervention Plans: Five Essential Themes that Add up to Adequacy: Study of decisions in due process, district court and appellate court cases finds five essential themes that add up to adequacy.
Conducting Appropriate FBAs: Two-part Webinar sponsored by the VCU Autism Center for Excellence featuring Sean D. Casey, Ph.D., BCBA-D.