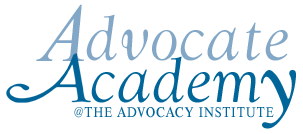 Including Students with Disabilities in Accountability Systems:
Legal Framework & Future Issues

Conducted January 20, 2010
Presenter
Kathleen Boundy, Esq.
Center for Law and Education

Kathleen Boundy, Esq., is Co-Director of the Center for Law and Education (CLE) and has an extensive background in education law. An attorney with CLE for more than 30 years, Ms. Boundy has played a significant role through legislation, policy development and litigation in implementing and enforcing the rights of students with disabilities, including improved educational outcomes under the Individuals with Disabilities Education Act, as amended, and Section 504 of the Rehabilitation Act of 1973 and No Child Left Behind.
Webinar Archive and Materials
Webinar Archive*: This is the recording of the live Webinar conducted on January 20, 2010. The recording is 1 hr, 25 minutes in length. You can start, stop, pause, fast forward or rewind the recording using the controls on the ReadyTalk player. (Note: Playing the archive requires FLASH Player to be installed on your computer.)
Webinar Archive MP3: This is the MP3 Audio file of the Webinar. You can listen using free software such as Windows Media Player or RealPlayer, and download to your IPod and Smart Phone.
Webinar PowerPoint Presentation Handout*: This is the Handout for the Webinar presentation on Including Students with Disabilities in Accountability Systems: Legal Framework & Future Issues. (PDF, 12 pgs)
ADDITIONAL RESOURCES: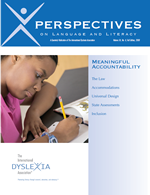 The following articles appeared in the Fall 2008 issue of Perspectives on Language and Literacy, the journal of the International Dyslexia Association. The issue examined the meaningful accountability for students with dyslexia in the context of federal education laws—both the No Child Left Behind Act (NCLB) and the Individuals with Disabilities Education Act (IDEA 2004). The issue was developed by guest theme co-editors Candace Cortiella, Director at The Advocacy Institute, and Rachel Quenemoen, Senior Research Fellow and national technical assistance team leader at the National Center on Educational Outcomes. An overview of the issue is available here.

Including Students with Dyslexia in the State Accountability System: The Basic Legal Framework
by Joanne Karger and Kathleen B. Boundy (PDF, 5 pgs)

Special Issues Affecting Inclusion of Students with Dyslexia in Statewide Assessments and Their Implications by Kathleen B. Boundy and Joanne Karger (PDF, 5 pgs)


CONGRESSIONAL FORUM:
On December 14, 2009, Representative Bobby Scott (D-VA) hosted a forum on education policy
as Congress prepares to reauthorize the Elementary and Secondary Education Act. Among the topics addressed were past policies related to segregation and disabilities, inconsistencies in the quality of education for minority and low-income students, and the elements of future policies to close this "achievement gap." Kathleen Boundy, Esq., was among the
invited presenters at the forum. Video of the forum is available here.
* PLEASE NOTE: These materials are for the exclusive use of purchasers of Advocate Academy Webinar live events and archives. Please do not distribute or provide others with access to these materials. Thank you.