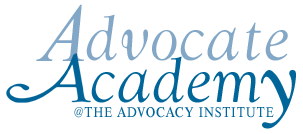 Negotiating Assistive Technology Supports and Services
Conducted on June 28, 2006
Presented by Dave L. Edyburn, Ph.D.
Dave L. Edyburn, Ph.D.
at time of this presentation Dr. Edyburn was Associate Professor, Department of Exceptional Services
University of Wisconsin-Milwaukee



Webinar Materials and Archives
Webinar Archive: This is the archive of the June 28, 2006 Webinar event. The archive is 1 hr, 18 minutes in length. (Note: Playing this archive requires ADOBE FLASH to be activated) An audio recording of the presentation is also available.
Webinar Material:This is a PDF document containing all of the visuals presented during the Webinar event.(PDF, 9 pgs, 523 KB)
Strategies for AT Negotiations*: This Web page offers several strategies advocates can use when negotiating AT supports and services for students with disabilities.

AT Resources: This web page offers several AT resources reviewed by Dr. Edyburn during the Webinar.
Related Webinars: