Webinar Archive: Unraveling the 504 Maze: Information and Strategies for Special Education Advocates

$25.00 $12.50 On Sale!

ABOUT THE WEBINAR:

Section 504 of the Rehabilitation Act of 1973 protects the rights of individuals with disabilities in programs and activities that receive federal financial assistance. Students eligible for special education services under the IDEA are typically also eligible for services under Section 504; additionally, students not eligible under IDEA may be covered by Section 504. Therefore, it is critical that advocates for students with disabilities understand protections under Section 504 as well as ways to deal with suspected violations.

This webinar provides an overview of the structure of the Office for Civil Rights (OCR) at the U.S. Department of Education, which enforces Section 504 with respect to entities that receive federal financial assistance from the Department. The Section 504 complaint process is examined in depth, including who may file a complaint, when a complaint may be filed, how to file a complaint, what type of information is necessary to file a complaint and how to effectively present that information. Additional ways to address suspected violations are explained as well as strategies to effectively navigate procedural safeguards provided by the law. The webinar also provides an overview of how the Americans with Disabilities Act Amendments Act applies to Section 504.

ABOUT THE PRESENTERS:


Elizabeth Greczek
Office for Civil Rights
U.S. Dept. of Education

Elizabeth Greczek is an attorney for the Office for Civil Rights, U.S. Department of Education. Elizabeth works primarily on policy issues concerning compliance with Section 504 of the Rehabilitation Act of 1973 and Title II of the Americans with Disabilities Act. Before coming to the Department, Elizabeth worked for the National Disability Rights Network providing training and technical assistance on special education issues to the Protection and Advocacy agency network. Before that, Elizabeth worked at the District of Columbia P&A advocating on behalf of students and parents in special education issues. At the P&A Elizabeth was co-counsel in the class action Petties case, regarding, among other issues, special education transportation for the District of Columbia public schools. Prior to working at the P&A, Elizabeth handled special education cases at the private law firm of Feldesman, Tucker, Leifer, Fidell, LLP and the Patrick J. Hoover law firm. Elizabeth earned her B.S. in Political Science from James Madison University and her J.D. from Cleveland-Marshall College of Law.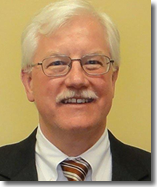 Ron Hager
Senior Staff Attorney
National Disability Rights Network

As a Senior Staff Attorney at the National Disability Rights Network, Ron provides training and technical assistance to the Protection & Advocacy/CAP network on special education. He has specialized in disability law, particularly special education, since 1979, when he started his legal career in Buffalo as a VISTA attorney. After that, he was a Clinical Professor at the State University of New York at Buffalo Law School for nine years, supervising the Education Law Clinic. In 1991, Ron moved to Neighborhood Legal Services (NLS) where he represented clients in a wide variety of disability-related cases. As part of NLS's National AT Advocacy Project, Ron also was a frequent author on disability-law-related issues. He was co-chair of the New York State Bar Association's Committee on the Rights of People with Disabilities for four years, and was the President of the Board of Directors of Autistic Services, Inc., in Western New York, for 10 years. Ron earned a B.A. in Psychology from the State University of New York at Binghamton and a J.D. from the State University of New York at Buffalo Law School.





[Add to Cart] [View Cart]