Webinar Archive: AT, AIM, NIMAS, UDL and More: Making It All Work for Students With Disabilities

$25.00 $12.50 On Sale!

Conducted October 22, 2008

ABOUT THE WEBINAR:
Technology provides a new opportunity to remove barriers to learning and improve the skills of students with learning disabilities. An overview of Universal Design for Learning (UDL), Accessible Instructional Materials (AIM) and assistive technologies (AT) are presented and how they can be incorporated into IEP goals to support students in reading, writing and organizational skills.

Specific examples from case studies are given along with technology recommendations for instructional strategies and accommodations.

A review of the eligibility requirements of free electronic books and textbooks for students with print disabilities, in accordance with the National Instructional Materials Accessibility Standard (NIMAS) provisions in IDEA 2004, are also included in this presentation.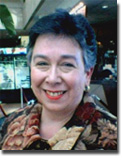 ABOUT THE PRESENTER:
Kathleen H. McClaskey, M.Ed. President of Ed Tech Associates, is an educational and assistive technology consultant with over 25 years experience in using technology in the classroom. In her business, she offers assistive technology evaluation services, and onsite consultation and professional development services to schools on using technology to improve literacy skills for all learners. Kathleen is a frequent national and regional workshop presenter and consultant on topics that include technology for diverse learners, Universal Design for Learning and the role of technology to improve literacy skills for all learners.

She has presented at the TRLD Conference, the LDA Conference, the International Dyslexia Association (IDA) Conference, MA and NH IDA Conferences and numerous regional and state conferences in the northeast. Kathleen is a board member of the NH Branch of IDA, SETSIG board member of ISTE and a board trustee of the Strong Foundations Charter School in Pembroke, NH.






Back to Advocate Academy Webinar Archives



[Add to Cart]
[View Cart]