Webinar Archive: Ethics in Special Education Advocacy

$25.00 $12.50 On Sale!

Conducted April 14, 2010

ABOUT THE WEBINAR: This presentation provides an understanding of the many dimensions to ethics in special education advocacy and its key components in both the approach to substantive issues and the methods by which an advocate achieves an outcome. The presenters explore ethics issues in legally-based advocacy surrounding competence and integrity as well as specific concerns in the areas of confidentiality, conflicts of interest and unauthorized practice of law. Although no universally recognized ethical standards exist for special education advocates, the presenters identify existing model codes and proposed codes for advocates. Reference to and explanation of caselaw is provided as appropriate.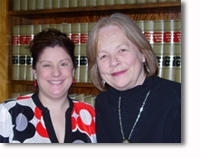 ABOUT THE PRESENTERS: Kayla A. Bower, Esq.(right), is the senior litigation attorney for the Oklahoma Disability Law Center, Inc. and has been its director since 1996. Joy J. Turner, Esq.(left), is a staff attorney at the law center and has handled special education cases since 2000. The law center is the protection and advocacy system for Oklahomans with disabilities and is a member of the National Disability Rights Network and the Council of Parent Attorneys and Advocates. They are members of the Oklahoma Bar Association and are licensed to practice in Oklahoma state court, federal court and the Tenth Circuit Court of Appeals. Ms. Bower is licensed to practice at the U. S. Supreme Court. They have made presentations to national, state and local special education organizations and governmental agencies, including the Oklahoma Childrens' Court Improvement Program. They are founders of the Partners in Education Advocacy (PEA) training program for non-lawyer advocates and have authored an article, "Ethics in Special Education Advocacy," which includes a proposed ethics code for special education lay advocates. Ms. Bower received her J.D. from the University of Oklahoma School of Law, and Ms. Turner received her J.D. from Oklahoma City University School of Law.



Back to Advocate Academy Webinar Archives




[Add to Cart] [View Cart]