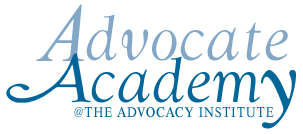 Standards-based Individualized Education Programs (IEPs):
What, Why and How

Presented on September 28, 2010
Presenters
Candace Cortiella and Rachel Quenemoen

Candace Cortiella is director of The Advocacy Institute, a not-for-profit organization dedicated to the development of products, projects, and services that work to improve the lives of people with disabilities. A disability rights advocate for 20 years, Ms. Cortiella has provided training and advocacy services for families of students with disabilities and worked as a government affairs associate for a leading learning disabilities organization. She writes and speaks frequently on the intersect of the IDEA and ESEA, most recently known as No Child Left Behind (NCLB).


Rachel Quenemoen is a Senior Research Fellow and national technical assistance team leader for the National Center on Educational Outcomes. Ms. Quenemoen has worked for 30 years as an educational sociologist focused on research to practice efforts. She has been a multidistrict cooperative administrator in both general and special education, and for the last 15 years has worked at the State and national levels on educational change processes and reform efforts related to standards-based reform and students with disabilities, building consensus and capacity among practitioners and policy makers. Her current research and technical assistance priorities include alternate assessment of students with significant disabilities and research focused on the causes of and solutions for "gap" issues.
Webinar Archive and Materials
Webinar Archive*: This is the recording of the live Webinar (audio and visuals) conducted on September 28, 2010. The recording is 1 hr, 31 minutes in length. You can start, stop, pause, fast forward or rewind the recording using the controls on the ReadyTalk player. (Note: Playing the archive requires Adobe's free FLASH Player to be installed on your computer.)
Webinar Archive MP3: This is the MP3 Audio file of the live Webinar presentation. You can listen using free software such as Windows Media Player or RealPlayer, and download to your IPod and Smart Phone.
Webinar PowerPoint Presentation Handout*: This is the Handout for the Webinar presentation on Standards-based Individualized Education Programs (IEPs): What, Why and How. (PDF, 24 pgs.)
ADDITIONAL RESOURCES (Requires Internet access):
National Center for Learning Disabilities: Understanding the Standards-based Individualized Education Program (IEP). This guide provides an overview of a process and document that is framed by the state standards and that contains annual goals aligned with, and chosen to facilitate the student's achievement of, state gradelevel academic standards. Written by The Advocacy Institute for the National Center for Learning Disabilities. (PDF, 11 pgs.)
* PLEASE NOTE: These materials are for the exclusive use of purchasers of Advocate Academy Webinar live events and archives. Please do not distribute or provide others with access to these materials. Thank you.