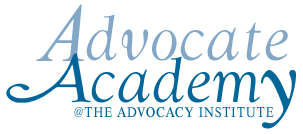 YES YOU CAN:
How Advocates Can and Do Make Positive Change

Conducted February 9, 2009
Presenter
Jamie Ruppmann


Jamie Ruppmann

Jamie Ruppmann's experience includes her work as Director of Public Policy for The Autism Society of America, Coordinator of the Family Leadership Training Program at The George Washington University, one of four regional coordinators of the Virginia Systems Change Project, Director of Governmental Relations for TASH (formerly the Association for Individuals with Severe Handicaps) and Associate Director of The Advocacy Institute. In addition, she has held many voluntary leadership positions including President of the Virginia Chapter of the Autism Society of America, President of the Northern Virginia Chapter of the Learning Disabilities Association and Chair of the Fairfax County Advisory Committee for Students with Disabilities. Jamie was a founding member of the Autism National Committee and the Council of Parent Attorneys and Advocates (COPAA).

She is an experienced and talented public speaker, enjoys leading training activities and has facilitated numerous national seminars and forums as well as focus groups and meetings. Jamie considers herself first and foremost a child advocate. Her experiences as the mother of two sons with disabilities receiving special education has provided her with insight and empathy for parents, teachers and staff members who are devoted to providing the best possible services and supports to children and youth with disabilities.

Webinar Archive and Materials
Webinar Archive*: This is the recording of the live Webinar conducted on February 9, 2009. The recording is 1 hr, 24 minutes in length. You can start, stop, pause, fast forward or rewind the recording using the controls on the ReadyTalk player. (Note: Playing the archive requires FLASH Player to be installed on your computer.)
Webinar PowerPoint Presentation Handout*: This is the Handout for the Webinar presentation for Yes You Can. (PDF, 11 pgs.)
Additional Resources:
The Joseph P. Kennedy Foundation Policy Guide: This Policy Guide was developed to provide an orientation about public policy work with and on behalf of individuals with intellectual and developmental disabilities and their families. The Guide provides information and articles about making federal policy, including the federal budget process. It briefly describes key Congressional committees, Executive branch agencies, federal legislation and judicial decisions that are most significant for people with disabilities. It also lists a number of stakeholder and constituent groups that work with and on behalf of individuals with intellectual disabilities and their families.