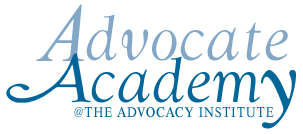 Ethics in Special Education Advocacy

Conducted April 14, 2010
Presenters
Kayla A. Bower, JD, and Joy J. Turner, JD
Oklahoma Disability Law Center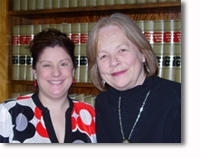 Kayla A. Bower, JD (right), is the senior litigation attorney for the Oklahoma Disability Law Center, Inc. and has been its director since 1996. Joy J. Turner, JD (left), is a staff attorney at the law center and has handled special education cases since 2000.
The law center is the protection and advocacy system for Oklahomans with disabilities and is a member of the National Disability Rights Network and the Council of Parent Attorneys and Advocates. They are members of the Oklahoma Bar Association and are licensed to practice in Oklahoma state court, federal court and the Tenth Circuit Court of Appeals. Ms. Bower is licensed to practice at the U. S. Supreme Court.
They have made presentations to national, state and local special education organizations and governmental agencies, including the Oklahoma Childrens' Court Improvement Program. They are founders of the Partners in Education Advocacy (PEA) training program for non-lawyer advocates and have authored an article, "Ethics in Special Education Advocacy," which includes a proposed ethics code for special education lay advocates. Ms. Bower received her J.D. from the University of Oklahoma School of Law, and Ms. Turner received her J.D. from Oklahoma City University School of Law.

Webinar Archive and Materials
Webinar Archive*: This is the recording of the live Webinar (audio and visuals) conducted on April 14, 2010. The recording is 1 hr, 24 minutes in length. You can start, stop, pause, fast forward or rewind the recording using the controls on the ReadyTalk player. (Note: Playing the archive requires Adobe's free FLASH Player to be installed on your computer.)
Webinar Archive MP3: This is the MP3 Audio file of the live Webinar presentation. You can listen using free software such as Windows Media Player or RealPlayer, and download to your IPod and Smart Phone.
Webinar PowerPoint Presentation Handout*: This is the Handout for the Webinar presentation on Ethics in Special Education Advocacy (PDF, 8 pgs).
ADDITIONAL RESOURCES:
Ethics in Special Education Advocacy(PDF, 17 pgs): Paper by Kayla Bower, J.D., and Joy Turner, J.D., Oklahoma Disability Law Center, prepared for the Partners in Education Advocacy (PEA) Training Program, a project of the Oklahoma Disability Law Center, Inc.
The following resources require Internet access:
National Disability Rights Network (NPRN): The association of protection and advocacy (P&A) systems in the U.S. Locate the P&A in your state.
Council of Parent Attorneys and Advocates Voluntary Code of Ethics: The purpose of this Voluntary Code of Ethics for Special Education Advocates is to provide a set of principles which Special Education Advocate members of COPAA can use as a guide for their work, conduct, and decision making. This Code is voluntary and is intended only as a guide.
TheDesk.info: Information about Medicaid for people with cognitive disabilities, including "MY PLAN", a tool to help individuals think about their strengths, needs, wants and dreams, and put them in a plan to use to make decisions about their life.
SchoolVictories.org: An online tool for education advocates of every kind: parents, students, educators, organizers, and more. Use it to reach out to your group members, other advocates and organizers, the public, reporters, funders, and community leaders. A project of the Education Law Center in Pennsylvania.
* PLEASE NOTE: These materials are for the exclusive use of purchasers of Advocate Academy Webinar live events and archives. Please do not distribute or provide others with access to these materials. Thank you.